By the Way...
Programs Connect Neighbors to Community: A Message from Our CEO
Our Reading Friends are Making an Impact, and Having Lots of Fun
Our Deadline for Incentive Prize Eligibility is Coming Soon
Be the One 2020 Parenting Class Schedule
---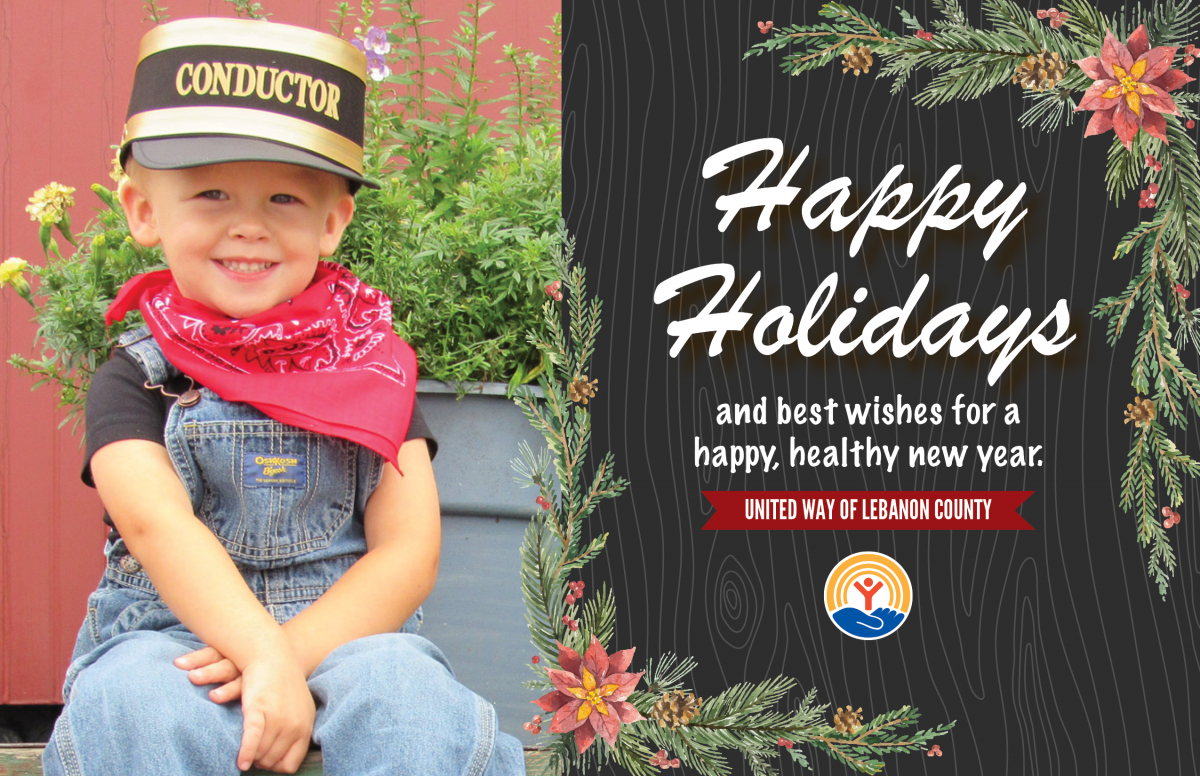 Happy Holidays, Lebanon County!
Thank you for your support of United Way this year and making an impact throughout our communities.
Meet Vance
At age one, Vance was not standing, walking, or talking. Being their third child, his parents knew that something was different. After meeting with various medical professionals, Vance was diagnosed with autism at the young age of 18 months. Because of his early diagnosis the Miller family was able to begin the process with the county Early Intervention program, which enabled them to begin services with Tanya, a Behavioral Specialist through Developmental & Disability Services of Lebanon Valley (DDS). 
While the family was educated on autism, they were not educated on how to help Vance in his early development. Tanya visited weekly, and immediately she began to educate them on various techniques that could help Vance. Tanya is extremely knowledgeable about child development and has been an amazing resource for the Miller family. She helped guide them throughout the process with early intervention and served as an advocate to help Vance receive additional services to help with his development. They noticed Vance needed some sensory guidance, so Tanya directed them towards occupational therap. Michelle, an Occupational Therapist with DDS, began treatment with Vance. She and Tanya worked together to establish goals for him to decrease self-harming behaviors and to promote language. Both Michelle and Tanya shared their knowledge and trained the family on ways to work with their son on a regular basis. Recently, Vance started to work with a physical therapist, Sue, who was also contracted through DDS.
Between the three of these women educating the family in their home, Vance is a different child. He no longer self-harms, can communicate in 3-4-word sentences, and he can express his wants and needs. Vance has also started to let the family know when he needs to be in a baby taco, which is a soothing device for him when he becomes over stimulated. This is a HUGE advancement in his development. Vance and his family are learning together on how best to manage his behaviors in a constructive and therapeutic manner. 
Your gift to United Way makes a real difference in our local communities. United Way is proud to support programs such as Early Intervention that can make such a huge impact on lives such as that of Vance and his family. When he ages out of the Early Intervention services with DDS, his family is more comfortable moving to the next steps thanks to the treatment and advocacy they received.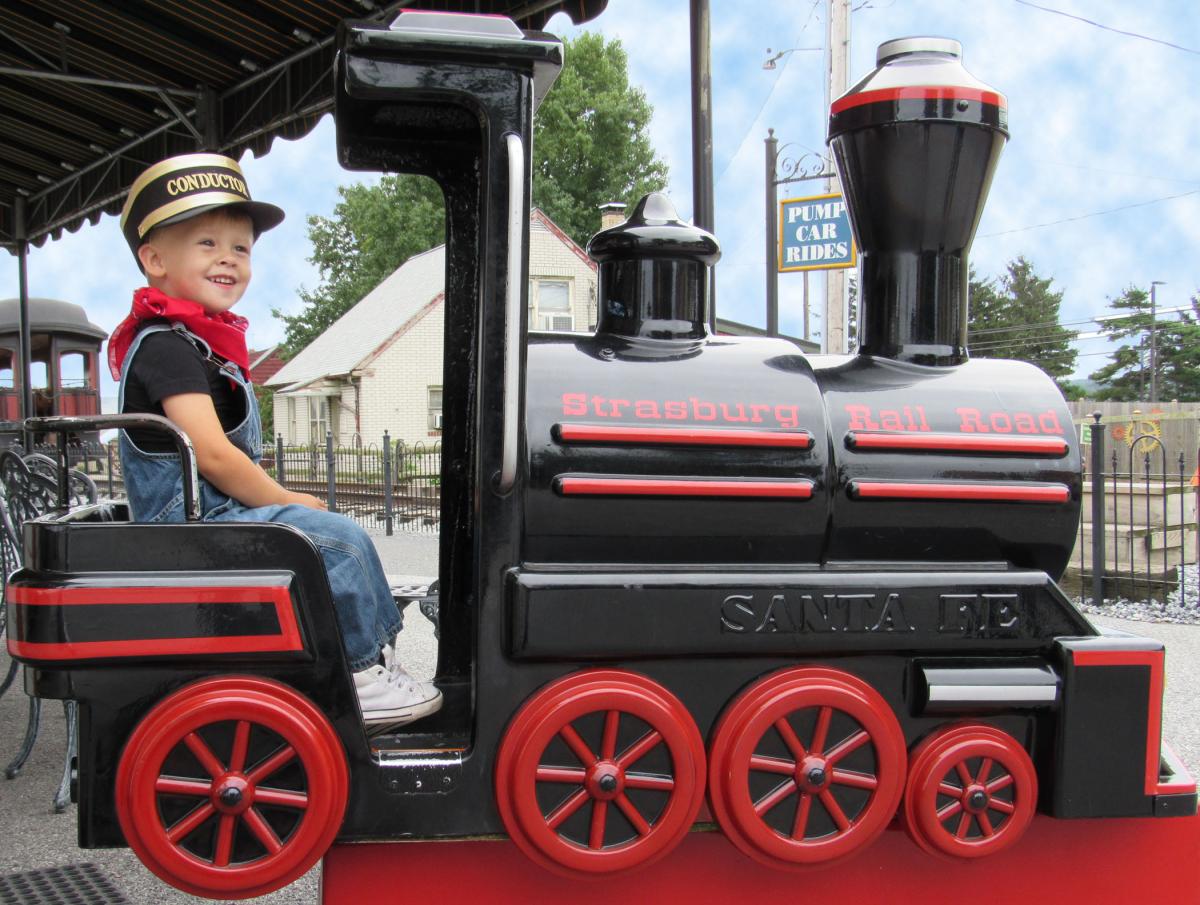 The team at United Way wishes our families, friends, neighbors and entire community a happy holiday season! 
---
Connecting our Friends and Neighbors with Community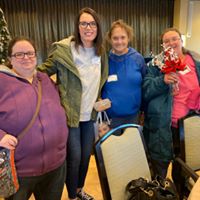 .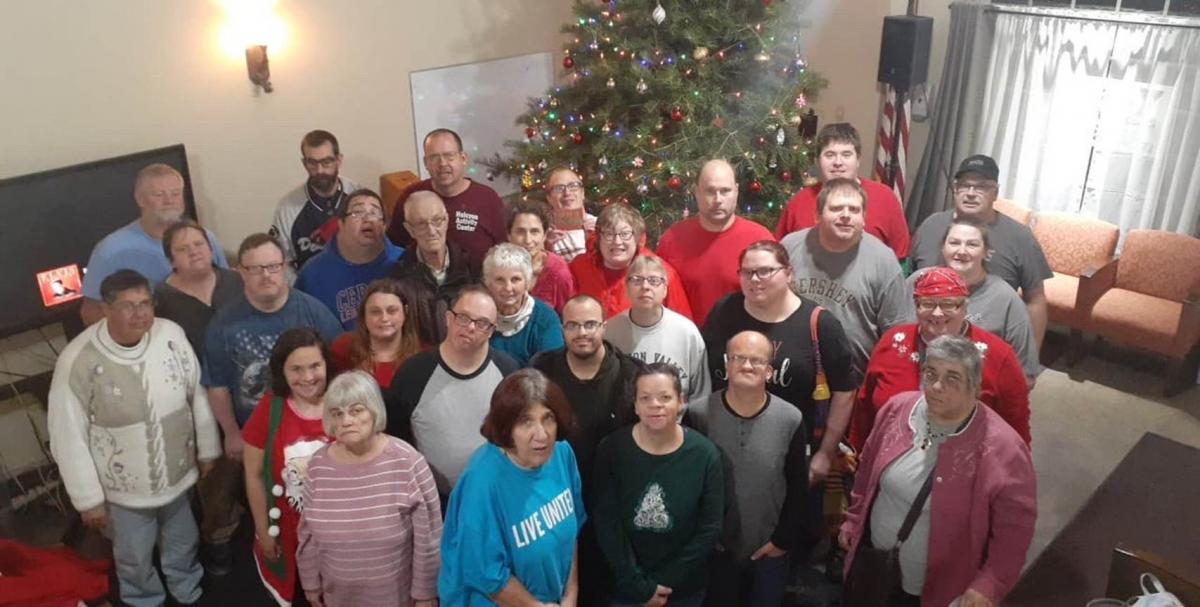 While the holidays are a joyous time for many, they can also be challenging for some. The hustle and bustle of the season, the financial burden, packed schedules, coping with the loss of loved ones, and feelings of isolation can all worsen feelings of depression, anxiety, and stress. People in our community live in isolation daily, they feel hopeless and alone. Social connectedness and meaningful relationships is a fundamental part of human life.  A targeted focus on increasing a sense of belonging within our community could reap benefits well beyond the investment. Studies have shown that social connections can increase physical health, improve self-esteem, lessen the impact of trauma and stress, and improve neighborhood safety. Think about the people in your world who may need support, one meaningful relationship can make all the difference for someone struggling with isolation and loneliness. You alone can make a difference in the life of that one person. What can you offer to someone who may just need a friend; someone to listen, care, encourage, laugh with, or lean on? United Way is proud to partner with two local programs that support community members by providing friendship, support, and social connectivity to those living with mental illness:
Halcyon Activity Center provides programming to promote community inclusion for people who are marginalized and stigmatized, who are in mental health recovery. They provide their members a wide range of opportunities to participate in the community as equal, not stigmatized, members of society. Their groups encourage overall health and wellness, help increase life skills, and lead to improved confidence and self-esteem. Halcyon members have gone back to school, gotten new jobs, moved to independent living, stayed out the hospital, and developed new skills to live independently in the community. Find out more about Halcyon activity center here. 
Friendships and supportive relationships are a key element for the recovery, support, and wellness of individuals in mental health recovery. United Way supports Compeer of Lebanon County's free support groups offered to provide local programming intended to compliment the clinical services offered in the community to keep people well. Support groups offer a space where individuals come together to share their stories, experiences, and lives in safe and supportive environment. By participating, those in mental health recovery feel less isolated, gain a sense of empowerment, improve coping skills, reduce stress, and get information about valuable community resources. Programs like support groups help adults in mental health recovery feel valued, inspire one another, build personal confidence, and empower people to work through their own problems. Find out more here about Compeer's support groups and other services.
If you or someone you know is struggling, please reach out. Know that you are not alone - help is available.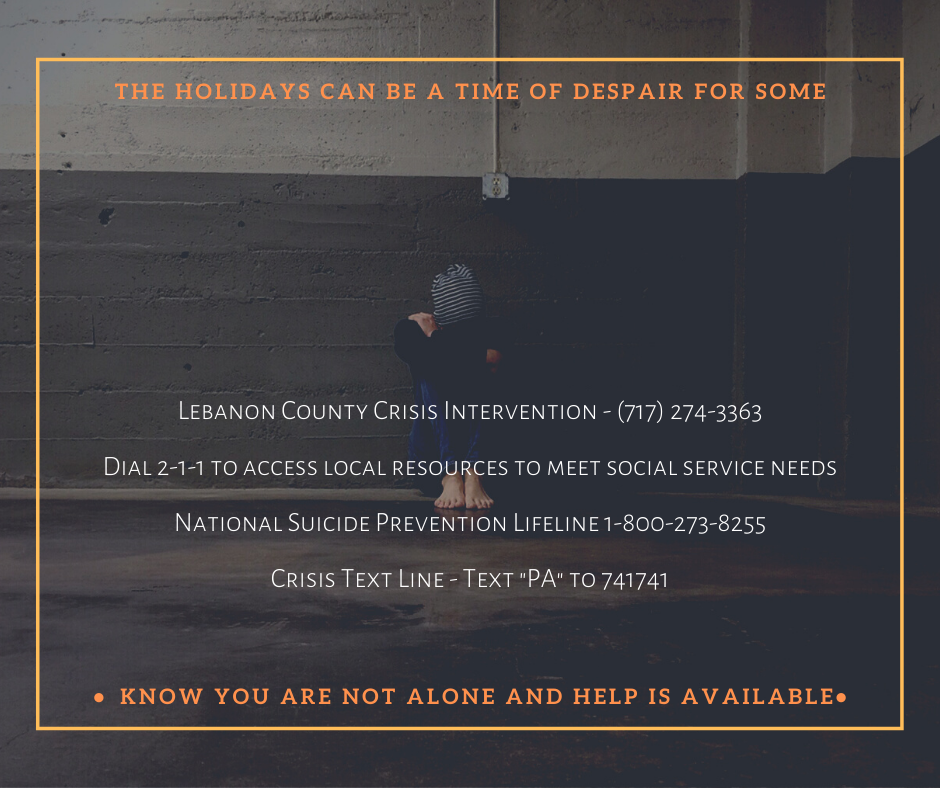 ---
Celebrating our Reading Friends Volunteers
On Thursday, December 12, United Way along with our event sponsor, Cornwall Manor, hosted Cookies & Conversation to celebrate our Reading Friends volunteers. We are so grateful for the support of all of them. These community members were pioneers in our newest program that puts volunteers right into the classrooms of our early learners. It was very touching to hear from our volunteers about how rewarding the experience has been and how much they look forward to their reading shifts. Teachers from these classrooms also joined us to share some of the struggles they see every day with their students and their families and how our Reading Friends are helping to make a difference. We took time during the event to give our a few awards to some of our Reading Friends:
Visionary Leadership Award: Bob and Ginny Stevenson for working tirelessly at assisting in coordinating our workshops for clearances and additional support as needed for new volunteers. 
Selfless Spirit Award: John Levengood for not only using his volunteer hours provided by his employer, Med-Ed, but also using his own personal vacation time reading to children. 
Most Engaged: Carolyn Baker for connecting with her classroom early on and sharing a beautiful story she wrote about her dog. Since our event, she's even taken her dog into the classroom to meet the kids! 
Most Shifts: Sally Tice who has been in the classroom 14 times, and already is signed up for another 21 shifts in 2020.
First Shift: Janet Eshleman signed up for our first volunteer slot and read Amelia Bedelia Bakes an Apple Pie to kindergarteners. 
To see the full program, click here to watch a video filmed by John Tice. Thank you to everyone who joined us for this fun afternoon!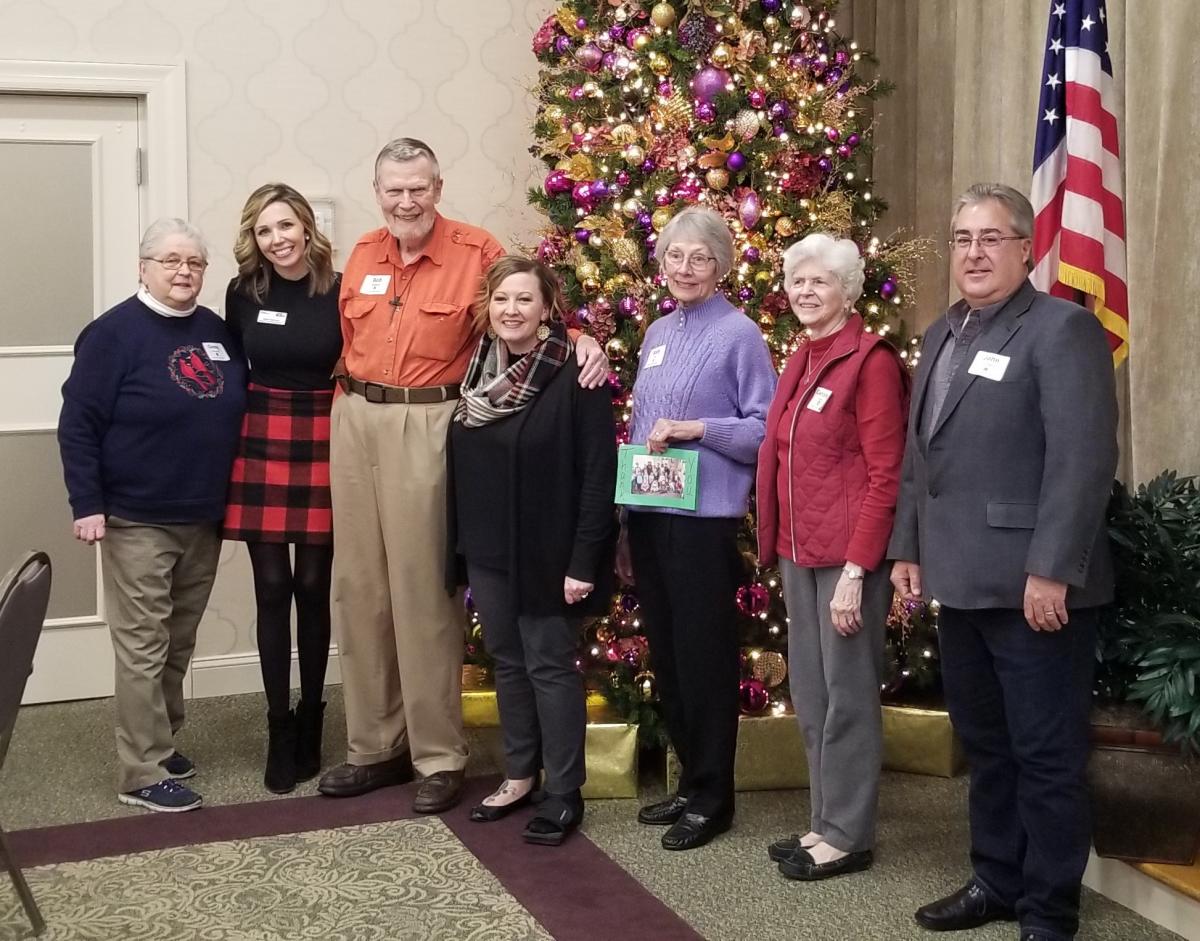 .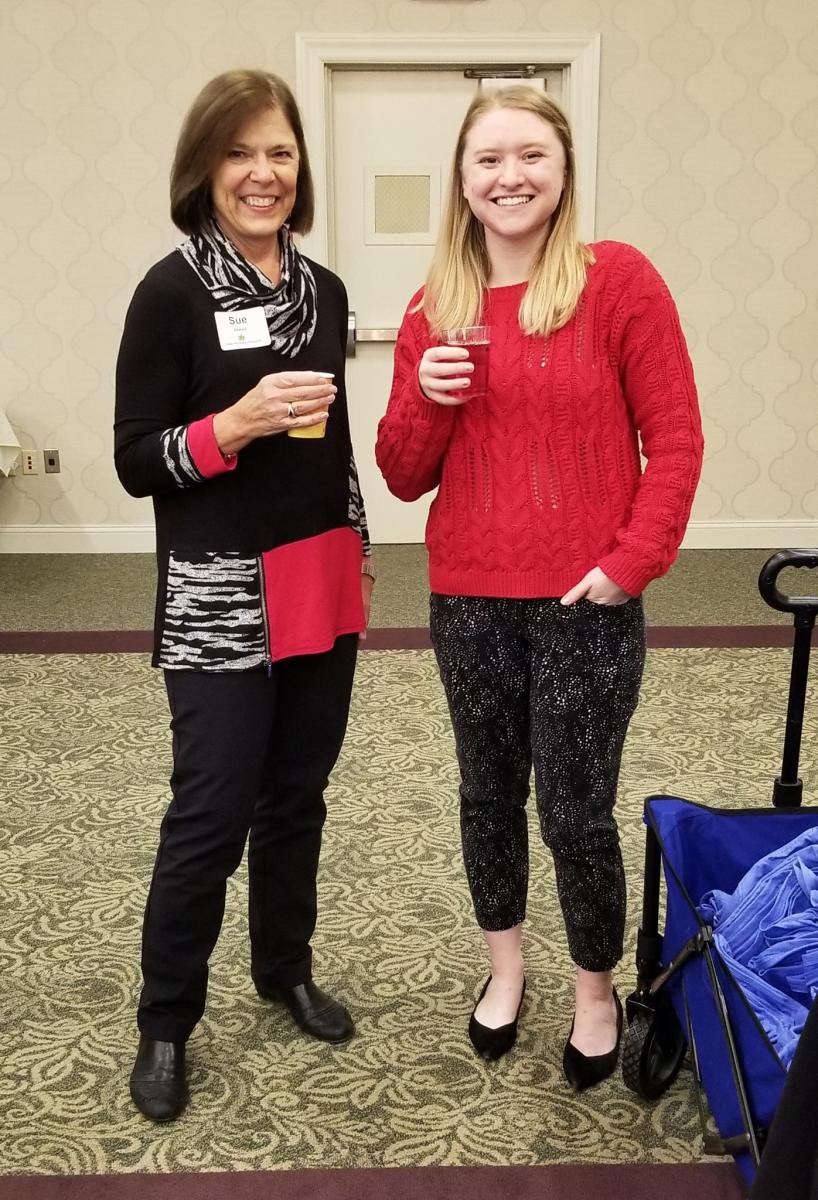 .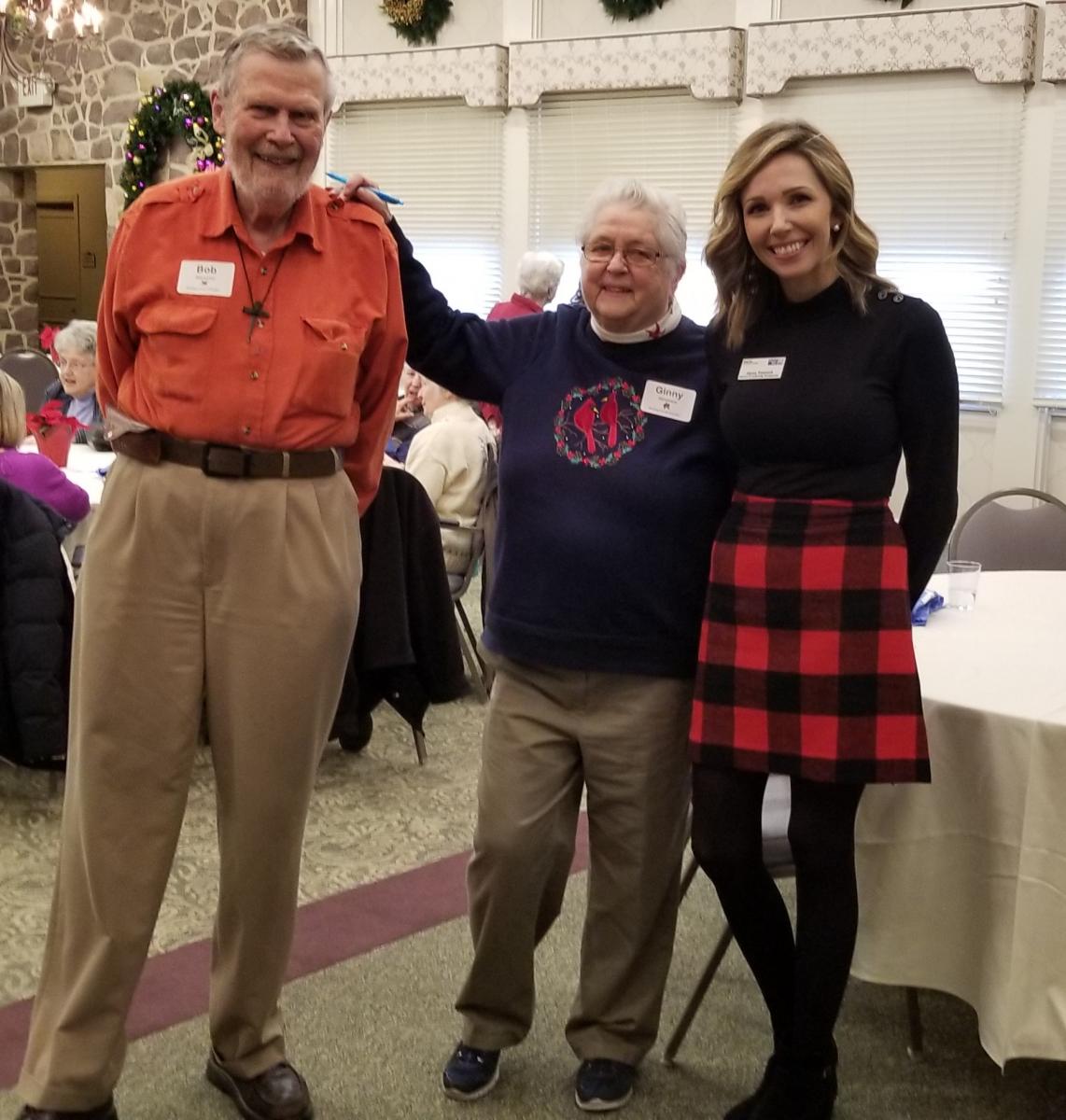 .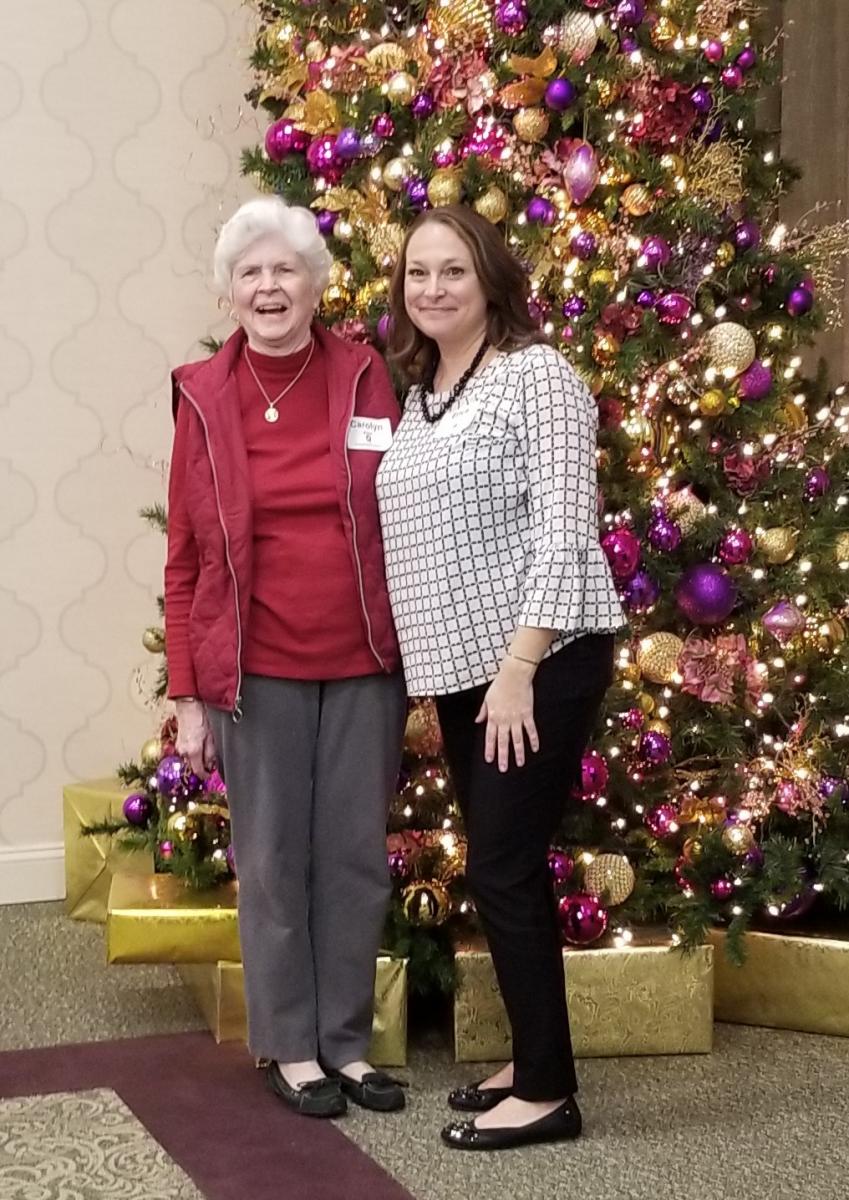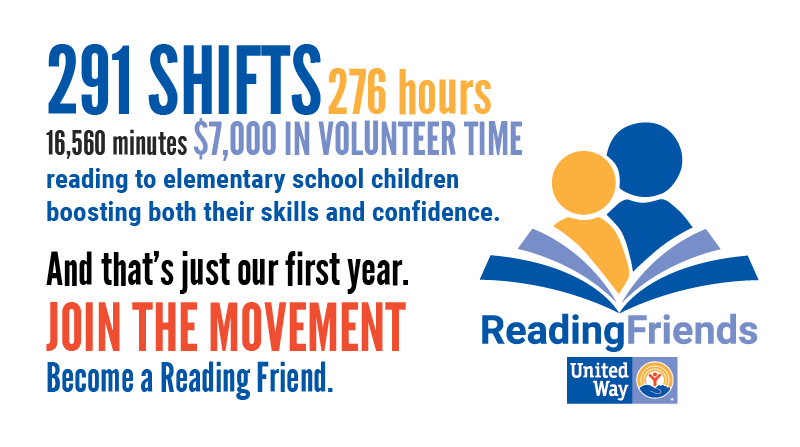 Did you know that children who can't read on grade level by the end of third grade are four times less likely to graduate from high school? Help us improve early literacy rates in children throughout Lebanon County as a volunteer in our fun, new program! As a Reading Friend, volunteers get to work with children in their classrooms both one-on-one and in small groups, depending on the needs within the classroom and those of the individual students. We currently have over 15 classrooms looking for volunteers, and will continue adding more throughout Lebanon County! 
Volunteer as a United Way Reading Friend to:
Visit local schools to read to students in kindergarten through third grade.

Help build literacy skills and confidence for children.

HAVE FUN!
"The most satisfying community service task I have ever done," says one of our volunteers following his first experience reading with 12 first-graders.
Sign up today to get more information about how you can become a Reading Friend!
 .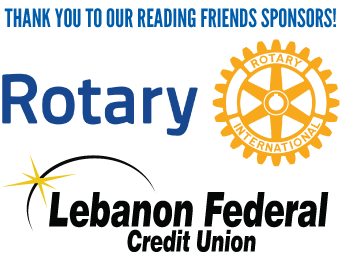 Questions about Reading Friends? Contact Alyssa Trentzsch at alyssa@unitedwaylebco.org or 717-273-8144
---
Deadline for Campaign Incentive Prize Drawing
We will be drawing our campaign incentive prize winners on January 31; donations need to reach us by January 24 at the absolute latest to qualify. Winners will be announced at our Campaign Celebration in February.
By donating at least $2/week ($104 annually) you are eligible to enter to win ONE of these great prizes. By donating a minimum of $4/week ($208 annually) you are eligible for two chances to win!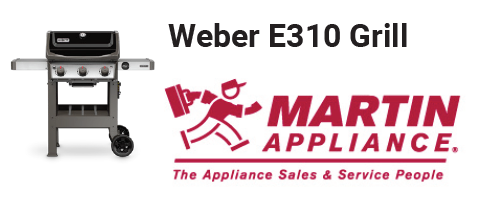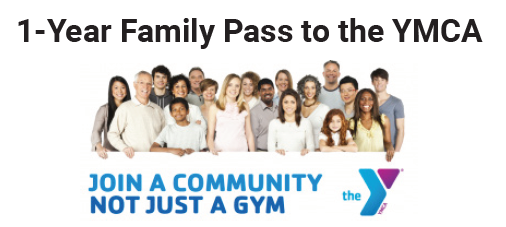 ONE winner will get to choose ONE of the following "Choice" prizes:

By donating at least $5/week ($260 annually) you are eligible to enter to win a 2020 Hyundai Accent, and you qualify for two chances to win the above incentive prizes. You can only win one prize. Car drawing will be held first.

---
Upcoming United Way Events
Mark your calendar now to join us for these upcoming events! 
2019-20 Campaign Celebration
Save the Date: February 13, 2020
More information and invitations coming soon! 

Join us for a celebration of our community and the announcement of our campaign total. Find out who the winners are of our campaign incentive prizes! 
Sponsored by UPMC Health Plan and Kreamer Funeral Home & Crematory.
2020 Day of Caring
Save the Date: April 18, 2020

Mark your calendar now to join 1,000 of your family, friends, neighbors, and coworkers for the region's largest one-day opportunity to improve Lebanon County together. 
Sponsored by UPMC Pinnacle and Lebanon Federal Credit Union.
---
Be the One Parenting Class
By supporting United Way of Lebanon County, you are helping families create emotionally safe and secure home environments through programs such as Lebanon Family Health Service's (LFHS) Be the One. This four-week program assists families dealing with trauma by identifying the impact of abuse and trauma and how to overcome it with social supports, fostering emotional health, build and the parent/child relationship. The program helps to break the cycles of intergenerational abuse, and as a result, participants have a much better chance at succeeding and thriving in school and as members of our communities.
Dara and John learned about Lebanon Family Health Services' Be the One Parenting Class from a flyer on a community bulletin board. Having never been to LFHS, they attended the class because they wanted to be the best parents they could be for their child. They are also hoping to become foster/adoptive parents, which could mean a child who has experienced trauma or abuse may be in their care in the future.
Dara and John described the course as "wonderful!" It helped refresh their parenting skills and taught them new ones. They learned some great techniques to become more grounded. They found the active listening skills especially helpful, as it can be tough these days to really listen to what others have to say with such busy schedules.
By taking the time to take this class, it was their way to say to their child, "hey, we love you and as a family we can do this!"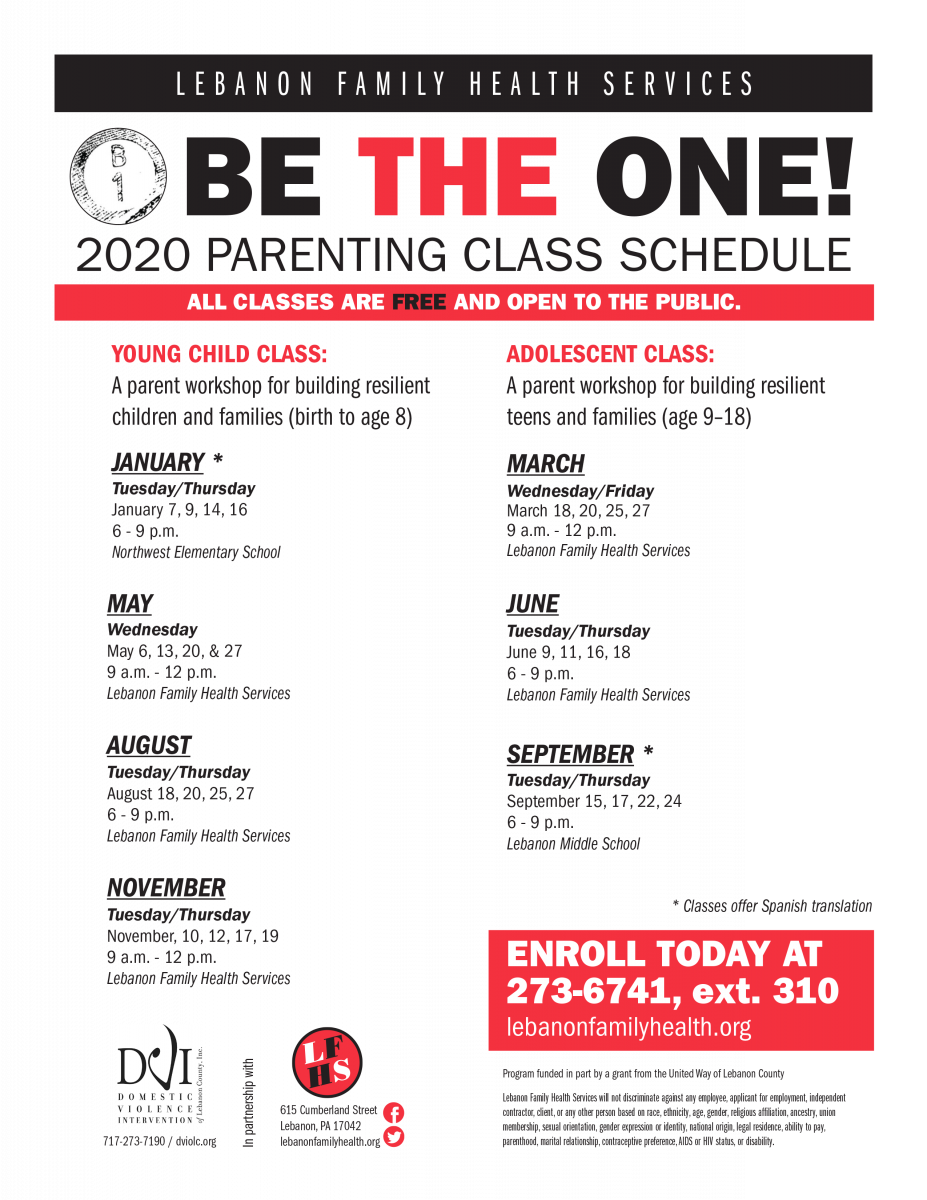 ---
Questions or comments about our newsletter? Contact Flame Vo, Director of Marketing & Communications.