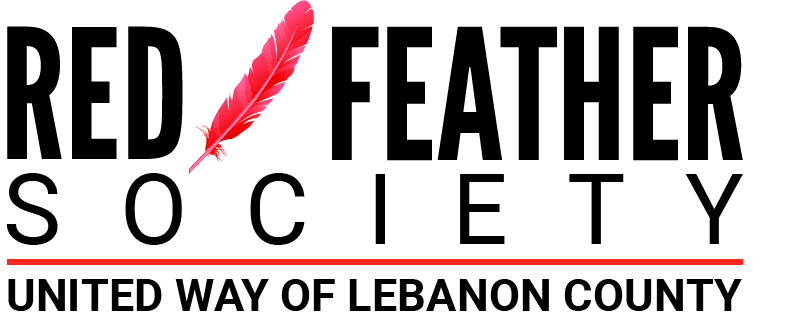 Leave a Legacy that Builds a Stronger Future for Lebanon County 
In the early 1930s, community chests, the forerunners of today's United Way, adopted the red feather as a symbol of service. For many years, the annual campaign here in Lebanon County was referred to as the "red feather campaign." Each donor was handed a red feather pin to proudly wear as a symbol of their commitment to their community. In honor of our past leaders, United Way of Lebanon County established the Red Feather Society. With our roots in service, we recognize the impact that planned giving has afforded our community while we continue to focus on building an even stronger future for us all.
Through planned and estate giving to United Way, you are leaving a legacy of generosity that ensures a stronger, caring community for our children, grandchildren, and generations beyond. In joining this esteemed, philanthropic group, your lasting commitment will touch thousands of lives by empowering adults, families and children alike to rise from poverty, break multi-generational barriers, and reach their potential.
Why Planned Giving? 
The goal of planned giving is to help you coordinate your estate and charitable giving in a manner that benefits you, your family, and your charity of choice. Including United Way of Lebanon County in your plans allows your gift to help our community for years to come and
potentially create shorter-term financial benefits for you as the donor:
Reduce your current income taxes by making tax-deductible contributions of appreciated or retirement assets.
Gain control of your taxes – how much you pay and who gets to use those dollars.
Earn income for yourself and receive a tax deduction.
Generate income for your designated nonprofit organization. After a period of time, transfer gifted assets back to yourself, your heirs, or another charity plus receive a tax deduction.
There are numerous opportunities available to enhance your familial legacy through planned giving. Your financial, tax, or legal professional can help you decide which options best suit your individual situation to achieve your unique goals.
Your United Way of Lebanon County
As a trusted community leader, United Way fights for the health, education, and financial stability of every person in Lebanon County. We believe that by leveraging community-based partnerships to maximize resources that we can build stronger communities together. Through collaboration with individuals and agencies, we are passionate about making sure that our children learn and succeed in school, are staying connected through work or continuing their education, and ensuring that adults and families have access to the resources they need to be self-sufficient.
We believe in Lebanon County's potential to be a thriving community that all of our neighbors are proud to be a part of, and every citizen - young and old – has access to the resources that they need to live their best lives. 
Leave a legacy of philanthropy in our community, and support United Way with the ultimate gift.
TO MAKE A GIFT, CONTACT ALYSSA TRENTZSCH AT 717-273-8144.
---
Thank you to the individuals and families who have generously given to United Way, including trusts & planned gifts that will leave a legacy for generations to come in Lebanon County.