Who is ALICE?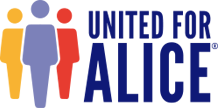 ALICE represents the 27% of Lebanon County who work, but struggle to survive. ALICE stands for Asset Limited, Income Constrained, Employed.
ALICE earns above the Federal Poverty Level (FPL), but makes less than what's needed to afford basic essentials. ALICE often earns too much to qualify for government assistance, and there is no room in ALICE's budget for emergency expenses. If you combine Lebanon County households earning below the ALICE Threshold with those living below the FPL, that's 37% of households who face financial hardship every day in our community. 
We all know people who are ALICE. ALICE workers educate our children, keep us healthy, and make our quality of life possible, yet do not earn enough to support their own families. ALICE households are forced to make tough choices, such as deciding between quality childcare or paying the rent, which have long-term consequences not only for ALICE, but for all.
ALICE households are diverse. They may be a single person or a large family. They may be college-educated working in professional services, or on the line in manufacturing facilities. 

Want to explore PA's ALICE data further? Check out the United For ALICE® website to see county-specific visual data across the state on demographics, the labor force, resource gaps, and more.
In order to better understand this growing population, United Way of Lebanon County partnered with United Way of PA, who conducted the research across our state. We have been active participants in the process in order to provide our community with the framework, statistics, and tools that our community stakeholders can use to inform policy and drive innovation.
We educate our local nonprofits, government, and other organizations about the data. In fact, some are directly utilizing the ALICE Report in their program development.
We are spearheading a local ALICE Solutions Council to ensure that we have a team at the table committed to making an impact on this significant group of individuals and families in Lebanon County.
We are part of the Lebanon County Economic Recovery Task Force, who is utilizing the ALICE Report data to make more informed decisions while creating our local plan to move forward together.
At United Way, we are committed to lifting up ALICE through community-based programs and advocacy, and will continue to work together with our community stakeholders to generate solutions to help ALICE on their path to financial stability.
Check out "ALICE: The Experience" to better understand how ALICE struggles every day to provide for themselves and their families. This interactive game allows you to make day-to-day decisions on behalf of a virtual ALICE character to manage finances based upon the character's income, expenses, and their individual family needs.
ALICE: The Experience is brought to you by United Way of Pennsylvania in partnership with Harrisburg University of Science and Technology.
---
Thank you to Fulton Bank for their support of ALICE in Lebanon County.

"Fulton Bank thanks United Way for their service and positive impact in our communities," said Krista Darr, Fulton Bank regional commercial executive. "We're proud to be a part of the United Way's efforts to support underserved populations, which aligns with our Fulton Forward® initiative. Fulton Forward® aids individuals and communities by providing financial education and encouraging economic development. Like United Way, our goal is to help people escape generational poverty and realize sustainable prosperity."