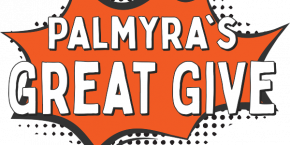 Palmyra's Great Give is a one-day giving event and community day aimed at helping nonprofit groups who are supporting Palmyra residents. There are a variety of ways to support United Way at this community-focused giving event. 
Fundraise for United Way
You can set up your own fundraising page. It's so easy to do, and you can share your own story with your contacts to show your support of United Way, and invite them to join you. Donations can be made right from your page. Our top fundraiser will even get a great fall-themed United Way gift basket! Giving for the event ends at 11:59pm on September 28.

---
Donate
Your gift to United Way represents a force for change in Lebanon County. We are committed to making a long-term, measurable impact on systemic issues in our communities including improving early childhood literacy rates, developing youth to engage in school and the workforce, and empowering adults and families with the tools they need to support themselves. As we work together to build a stronger future for our county, we also recognize that every day, any one of our neighbors may find themselves in a time of crisis. We continue to support programs that can provide the resources in those times of need. 
By making a gift on this designated day of giving, you are showing your support for the work we are doing along with so many other organizations to strengthen our communities. Together, we will show the power of collaboration and support in our community by contributing to the Great Give and participating organizations. 

---
Volunteer
Join United Way to help us during the event at our booth. We'll be handing out children's books and making bookmarks with the kids. Join us for a couple hours or the full day; it's going to be a lot of fun! 

You can also join the Palmyra's Great Give team as a volunteer and help out with the event itself. By recruiting volunteers for the event team, we are able to earn even more of the stretch pool, which gets distributed to all participating nonprofits based upon their level of participation and other "contests" being held throughout the day. 

---
Attend the Event 
September 28 | 10am - Dusk | Memorial Park, Palmyra
There are a lot of fun things happening throughout the day, and it's a great opportunity to find out about the amazing work that so many nonprofits are doing in Palmyra. Be sure to stop by and say "hello" to our team and volunteers. We look forward to seeing you there! 

Questions about United Way of Lebanon County's participation in Palmyra's Great Give? Contact 

Flame Vo

, Director of Marketing & Communications.