You can help us make an impact on the health, education, and financial stability of every person in Lebanon County now, while we continue to build a stronger future for us all. 
---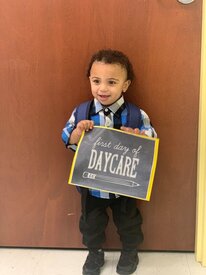 Mindy lives across the street from Lebanon County Christian Ministries (LCCM), but not too long ago, she lived at LCCM's FRESH Start Emergency Shelter & Resource Center.
Just two years ago, the 27-year old single mom was struggling with unstable housing, drug addiction and unemployment, making it incredibly challenging for her to provide for her infant son, Jayvion. 
After years of struggling to hold down a job and keep up with rent payments, Mindy knew she couldn't do it by herself anymore. That's when she turned to the FRESH Start family shelter.
FRESH Start is funded in part by United Way of Lebanon County. Safe, affordable housing is a growing need in our community and United Way of Lebanon County works to combat homelessness through community investments, and other funded resources like the 211 social service hotline. 
211 is a free 24-hour hotline that connects callers to a directory of social services in their communities, including housing resources and homeless shelters. 
Since January of 2020, the United Way 211 call center in central PA has received 656 calls from individuals in Lebanon County looking for resources on housing, accounting for 36% of the total call volume. Compared to the same time period last year, these numbers are up by over 200 calls.
United Way of Lebanon County is also a member of the Lebanon County Coalition to End Homelessness, a group which provides leadership in the eradication and prevention of homelessness in Lebanon County. 
Mindy's most recent stay at the shelter was her second time seeking help through the FRESH start program at LCCM, but this time was different - she was determined to change her life and build a better future for her son. 
"I was out of my addiction. I wasn't getting high anymore," she said. "This time around my son was over a year old. It was time to get myself together for my son's sake. It's not about me anymore. It's about my son."
Mindy says she grew up in foster care, group homes and spent time in residential treatment centers for youth. "I grew up in the system," she said. "I got taken away from my parents when I was little, and I didn't want my son to go through that. I don't want what I went through to affect my son."
Being homeless is stressful, she said, but as a single mother, she lived with the nagging thought that she could somehow lose Jayvion because of it. 
"My biggest fear was not finding me and my son a place to live," she said. "My biggest fear was my son getting taken away. That was my biggest fear. What if I don't find a place?"
At any given time, approximately 50% of the guests at the FRESH Start Shelter are children. Poverty rates in Lebanon County are in line with regional levels, except for children under the age of 5. Young children, who are a particularly vulnerable group, experience poverty at a rate of 19% in Lebanon County. 
When Mindy and Jayvion returned to FRESH Start, it wasn't without some bumps. "I had my rounds with staff and difficulties, but at the end of the day, they saw the improvement I was making, taking care of my child, not doing drugs, looking for a job," she said. "I got my child daycare. On top of that before I came back, I got accepted for Section 8 housing, but the COVID-19 situation meant I had to wait a while to try to find a place because it wasn't' getting anywhere."
When the pandemic closed businesses state-wide in late March, United Way of Lebanon County began fundraising and organizing to provide emergency grants to local non-profits in need. LCCM received support from United Way of Lebanon County's COVID-19 fund to help support the FRESH Start Family Shelter and pay for unforeseen expenses caused by the pandemic. 
Due to COVID-19, Mindy's stay at FRESH Start lasted 7 months, but it may have been a blessing in disguise.
The staff at FRESH Start played a huge role in her life by offering accountability, stability and emotional support as she learned new skills in how to make it on her own.
"I really didn't have a support system growing up, so having that here was very, very special to me," she said. "They showed me how to apply for (day care), they taught me how to be independent and how to do things on my own. They taught me computer skills because I had to look up jobs and apartments...they taught me food shopping. I had to do all that on my own. They taught me how to save money. You have to put your money to good use when you're on your own."
Many people do not know that approximately 90% of adults staying at the LCCM's FRESH Start Shelter are employed. With cost of living rising every year, many working adults in our community are finding themselves unable to afford their living expenses with their current income. The working poor is a growing demographic in Pennsylvania and is studied in greater detail in United Way's ALICE report. ALICE is an acronym that stands for Asset-Limited Income-Constrained, Employed. 
The ALICE report is another of the many resources that United Way provides to organizations, like LCCM, to help inform their work as they address poverty and housing insecurity. 
With the help of the FRESH Start Emergency Shelter, Mindy is starting to turn her life around. 
She wants to build on her independence and has a dream of going to college and earning a degree in business to open her own clothing store one day. She has a dream for her son, too.
"I want him to grow up happy, grow up healthy and grow up to get an education," she said. "I want him to be way better than I was."
To help support families like Mindy's, donate to United Way of Lebanon County. Support for our social services are critical during this time of crisis. Your gift to United Way supports early education, youth development, adult and family stability, and basic needs like healthcare and housing for our local neighbors in need.
With a single gift, you can make a difference in the lives of hundreds of community members. Thank you for being a force for change in our community as we reimagine, rebuild and recover from the COVID-19 crisis.