The 2017 Community Needs Assessment identifies major needs in the community through survey data, secondary data, and focus groups.
With the help of Penn State Harrisburg's Institute of State and Regional Affairs, United Way of Lebanon County conducted a community-wide Community Needs Assessment in the spring and summer of 2017. The goal of this initiative was to understand the demographic makeup, unmet needs, utilization of services, and barriers to receiving services for those living in Lebanon County. The research team completed four major elements as part of the community needs assessment: secondary data analysis, focus groups, a community survey, and a Community Conversation.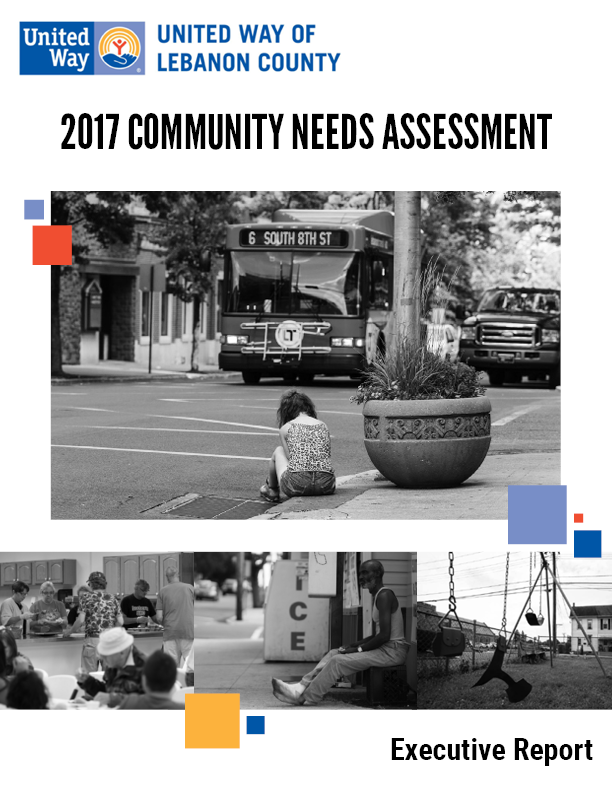 This project culminated in an Executive Summary Report, which was released in the fall of 2017.
Some standout findings include:
14.3% of Lebanon County residents do not have a high school diploma
43.9% of children in Lebanon County and 54.7% of children in Lebanon City live in non-self-sufficient households
28.2% of Lebanon County residents live in unaffordable housing situations
The top five unmet needs as reported by survey respondents are dental insurance, dental care, finding a job, health insurance, and transportation
17.4% of survey respondents said they or someone in their household had experienced sexual violence
Lebanon County has twice the percentage of uninsured children as compared to the state of Pennsylvania
---
This project was made possible by the dedication of many individuals from Penn State Harrisburg and United Way of Lebanon County.
The project team from the Institute of State and Regional Affairs at Penn State Harrisburg included Stephanie L. Wehnau, Nicole Sturges, Tim Servinsky, Sue Copella, Jennifer Shultz, Larry Meyers, and Tim Schock.
United Way of Lebanon County's advisory group members included Colleen Christian, Oneida DeLuca, Phil Domencic, Doug Etter, Carolyn Haskell, Bob Hoffman, Terri Smith, Jennifer Snyder, Phil Tipton, Melanie Wells, Troy Williams, and Maureen Zimmerman.